Melanie J. COCCO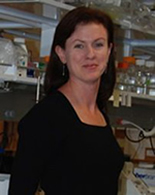 Melanie J. Cocco is an Associate Professor in the Department of Molecular Biology and Biochemistry at the University of California, Irvine.
She has a PhD in Biophysical Chemistry awarded from The Pennsylvania State University and received her postdoctoral training in Biophysics at Yale University. Her expertise in structural biology and membrane protein biochemistry lead her to develop a laboratory with research devoted to issues of membrane protein structure and stability.

In collaboration with Drs. Jean-Luc Popot and Luis de la Maza, she is working to develop vaccine formulations using membrane proteins solubilized in amphipols.