News
---
Team Recruitment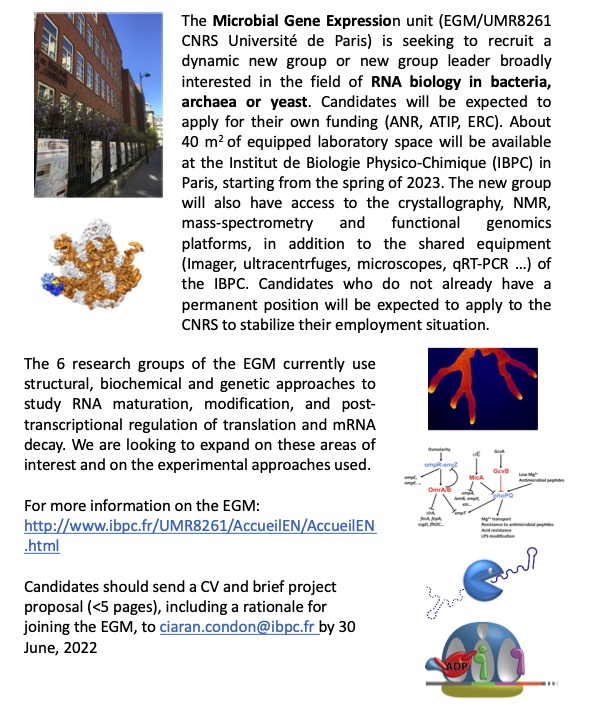 ---
2 international post-doctoral positions (FP-DYNAMO-PARIS) are available in the unit
Investigating the role of new regulators of mRNA translation: case study in the hetero- and autotroph model bacteria, E. coli and Synechocystis (2 years) - Plus d'informations
Structural biology of RNA-protein complexes (2 years) - Plus d'informations

Deadline: March 27th, 2022
---

---
The Unit
---
The « Microbial Gene Expression » laboratory (associated with the University Paris VII) was created by Marianne Grunberg-Manago in the early 1960's. It focuses on the study of fundamental aspects of gene expression in microorganisms (
E. coli
,
B. subtilis
,
Synechocystis
and
S. cerevisiae
) using genetical, biochemical and structural approaches. RNA, in all its forms, plays an important role in our work, which concerns the major steps in the control of gene expression : transcription of genes, the stability of mRNAs and their translation into proteins. Our unit has about 45 members distributed into six scientifically autonomous research groups.
1.
Physiology and regulation of protein synthesis
(Headed by Grégory Boël)
2.
RNA MAturation and Decay
(headed by Ciarán Condon)
3.
RNA control of gene expression
(Headed by Eliane Hajnsdorf and Maude Guillier)
4.
Transcriptional and post-transcriptional controls of gene expression
(Headed by Harald Putzer)
5.
RNA helicases
(Headed by Kyle Tanner)
6.
Biogenesis, architecture and interactions of RNAs
(Headed by Carine Tisné)


&nbsp